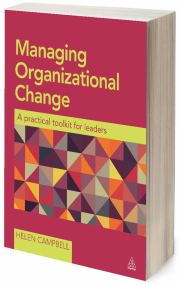 "An excellent read! A simple and powerful collection of practical and pragmatic frameworks that will help managers and leaders successfully implement change." Suzanne Murray-Prior, Director, Change Management, Large consulting firm
"Concise, substantial, practical, and do-able discussions and recommendations" A review by Bob Morris
Helen's new book Managing Organizational Change: A Practical Toolkit for Leaders is out now from Kogan Page. A guide to organizational change management, it will help you to: learn from others so you don't waste time trying to reinvent the wheel; educate your organization by outlining the real scope of organizational change; assess your performance and identify the biggest strategic and operational risks; celebrate and embed success; and develop integrated frameworks and methodologies to make your change successful.
"The truly practical tools in this book will help experienced leaders looking for ideas to jump start their change initiatives and those starting to build change capability"  Caroline Perkins Co-Founder and President Change Management Institute
Check out one of the book reviews and an interview with the author
"…easy to read, presenting clear practical application grounded on sound theoretical perspectives… well placed to support practical implementation or academic study." Dr Alan R Dowler PhD BSc MBPsS, Senior Lecturer, Cardiff School of Social Sciences, Cardiff University
"…no nonsense approach that challenges leaders to think through what it takes to change their business…clear and easy to follow framework, richly illustrated by case studies and examples that guides you through the organizational change process."Ira Blake, author of Project Managing Change, and co-lead of the Change Management Institute UK
"Helen Campbell simplifies the complexity of managing change…practical and easy to apply approach and set of tools for tackling organizational change…" Dr Janet V Cole, PhD, Principal Lecturer, Field Leader for Computing Studies, Kingston University
"This book is a 'must read' for anyone seeking to avoid the common pitfalls that cause so many organizational changes to fail, as it brings much needed clarity and structure to this subject." Simon Ewin, Business Director, Chartered IT Professional, Telecommunications company
Buy the book…
For 15% off the RRP for Australian readers use the code MOC15  when you buy through the Australian distributor.  Readers in most other countries can order Managing Organizational Change and enjoy 20% off the RRP by using the code MOC20 when ordering the book directly from the London publisher.  Of course it is also available through the usual online book retailers in both a paperback and ebook format.
"It is professional, sophisticated yet practical and easy to follow and understand.  Helen's book will help ensure you and your team SURVIVE!" Pat Meyer, CEO, ICNet International
Introductory resources are available on the Kogan Page website, including:
Cultural Assessment: Articulate the cultural forces that will help or hinder your change
Elevator Pitch: Choose and use the right words to communicate the change
Driver Checklist: Identify and brief a suitable change driver, identify any gaps in their skills
Capacity Checklist: Determine the capacity you need and the strategy to make it.
Planning to Profit: Identify the steps from the delivery of your change through to a more successful organization
Learn more about the model or find out how your organization stacks up against the benchmarks set by other organizations.
Managing Organizational Change is based on the Cycle of Change model and outlines the 4 things successful organisations have and the 6 things they do which enable them to realise a better return on investment more quickly, and consistently deliver great improvements for their customers, staff and shareholders.
We know that organisations need to adapt to survive, but research and our own experience is still telling us that projects don't always deliver what the organisation needs and changes cause havoc to our staff and customers.  In fact, the money we spend on improving our organisations is delivering what it promises less than half of the time.  That's not great odds!
Learn more about the model or find out how your organization stacks up against the benchmarks set by other organizations.