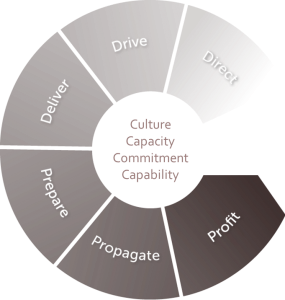 The Cycle of Change illustrates the complete range of attributes and activities required to reliably roll out change into your organization.
The model is based on over 20 years of research.  It has been validated on over 100 large change programs and has proved to be a surprisingly simple way of identifying the attributes and activities required to ensure successful change in a range of organisations.
It's simplicity means that organizations can immediately discover what is getting in the way of successful change
"Helen is a great speaker"
"Very experienced, very knowledgeable"
"Fantastic speaker.  Has story telling down to a fine art.  Excellent use of humour"

"Great, thought provoking, terrific delivery"
"Helen is a confident and knowledgeable speaker – great to listen to"
"Helen was great.  Practical, entertaining and had great real life examples"

"I underestimated the importance of managing change…
This session has opened my eyes"

Discount on multiple copies
If you'd like to buy more than 20 copies of the book please contact us and we'll see if we can do a deal.
Now score my organization or project against the Cycle of Change model