"I was delighted with how far we got on the day.  The results speak for themselves, well done!" Paul Nelson
 What if your team could work together successfully at…. solving a problem? reaching a decision? setting priorities? generating ideas? developing project plans? developing or fixing a process? developing a business plan? running focus groups? establishing roles and responsibilities?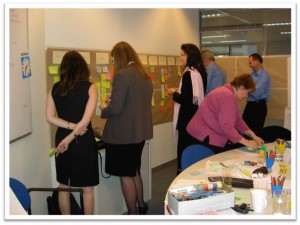 The good news is that your team can work together effectively.  At Catalyst Business Solutions we design and conduct worthwhile, productive, cost effective workshops that will deliver improved business results.
A Catalyst workshop will…
get excellent results quickly

make the best use of your resources

structure views and information in an objective manner

take the emotion out of decision making and problem solving

improve collaboration among team members and ownership of outcomes

use innovative and effective techniques, ensuring participant involvement and enjoyment.
Catalyst Business Solutions has designed and facilitated over 1000 workshops for organisations of all sizes, throughout Australia. Contact us today to see how we can tailor a solution for your business.